San Vito lo Capo: kids' paradise
San Vito lo Capo is a kids' paradise, a child-friendly city, if you consider the main beach as a salty swimming pool for kids, with a long shallow transparent sea and calm waters.
This beach is the reason thousands of families come to the place every year: a perfect and safe environment to have fun, play volleyball, soccer, swimming, make sand castles and also try water sports, such as surfing or stand up paddle. Some parents would prefer beaches like this one, with facilities, such as bathrooms, showers and restaurants nearby.
Afterall, it is not much to ask for some comfort and relaxation during vacations, is it? But there's much more to see and visit, especially natural places that may stimulate kids curiosity and imagination. All you need is a little organization and a backpack. It is possible to make short excursions that would give the children much more possibilities to enjoy the environment and learn something new, which is really rewarding. Not to mention the quality family time you may provide with extraordinary time off and outdoor options.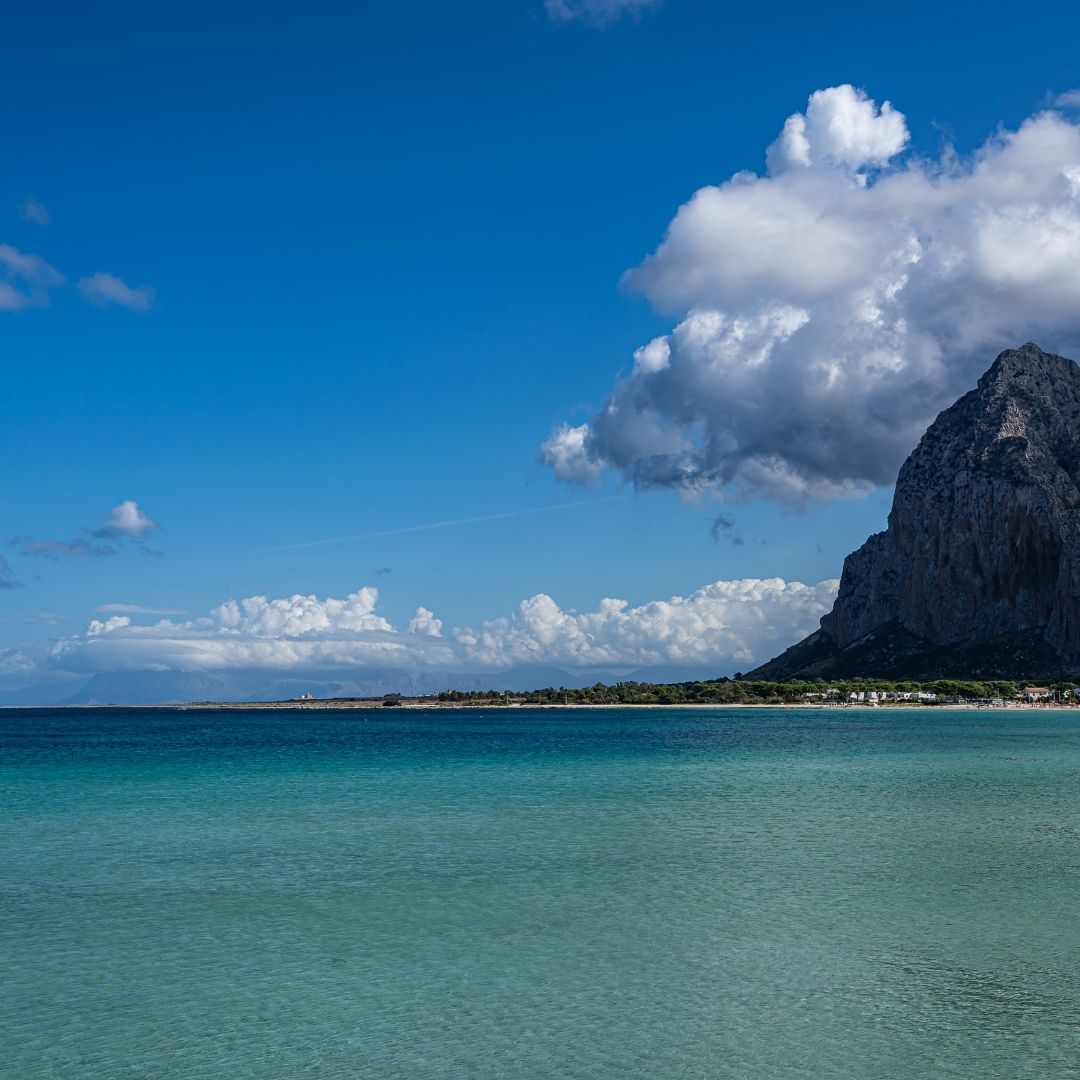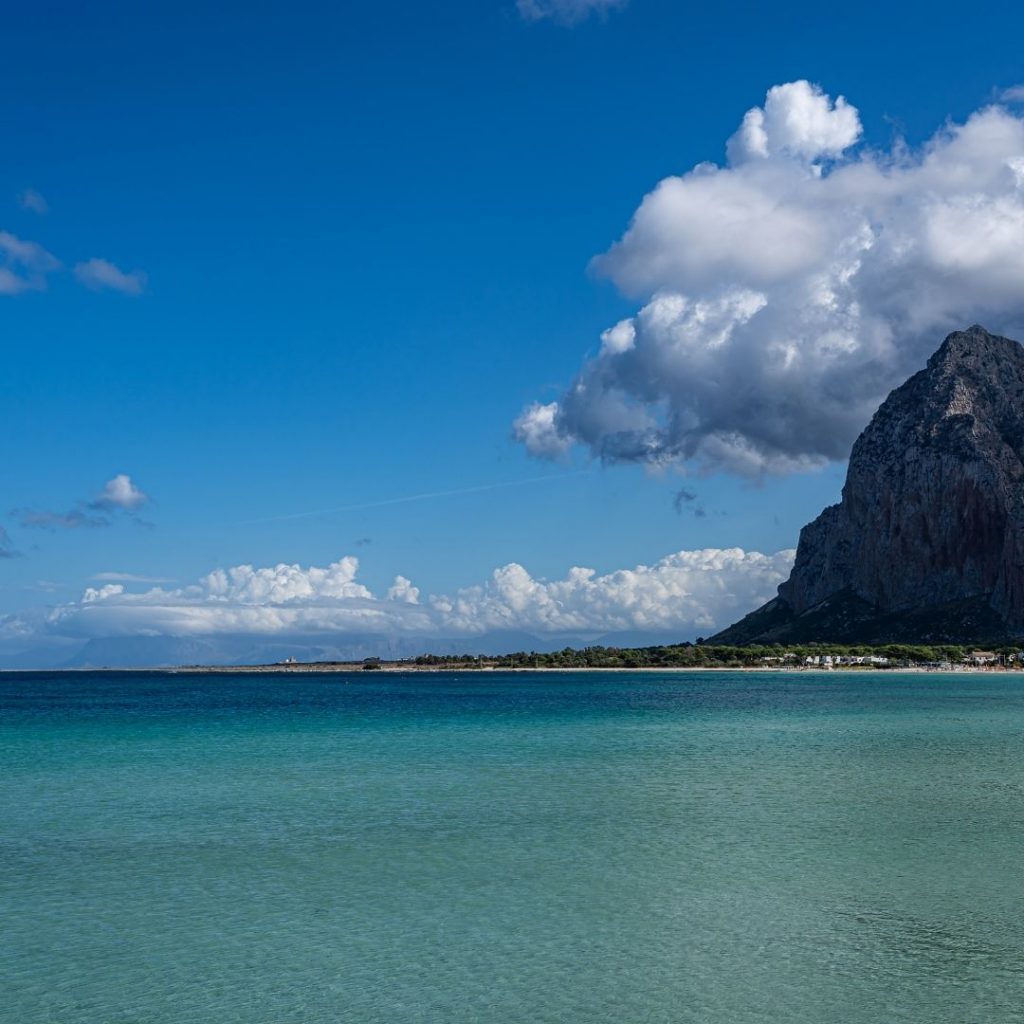 La Tonnara del Secco, for instance, is one of those places. Take with you appropriate shoes, swim goggles and floaties – this "beach" is not shallow, but a diving board straight to the sea. Kids can explore little crabs hiding inside holes in the rocks, observe coloured fishes in great amounts dancing under their feet, meet sea tomatoes and other specimens of sea life. With some luck (and the help of an adult who can deep dive), they may grab and feel sea stars, sea urchins and discover octopuses hanging on inside little caves. At Tonnara del Secco is easy to park and just a short walk until you reach one of the three concrete slides, once part of a tuna fish factory, that was deactivated on the 70's. The place is not known by its cozyness, so avoid going there if you are really strict about comfort. Better take everything you might need with you, there is no place to buy anything in the surroundings.
Bue Marino and Isulidda are two great beaches in the area of Macari. Unfortunately, these beaches are not recommended for everyone. They are not easily reachable and it is a bit difficult to access if you are carrying a baby or toddler. In fact, walking loaded under the Sicily sun for a while may be very challenging. If you still think it is worth visiting, keep in mind that it is easier to enjoy those beaches if you have older kids.
Continuing the road from San Vito, almost arriving at Castelluzzo, you get to Santa Margherita's Bay, another parents-favorite-place-to-go. Depending on the wind, this beach may have waves, so it is always better to check it before. Kids love this beach because they get two-for-one: they find sand, but also rocks on both corners. Santa Margherita is fully equipped, you may rent umbrellas, pedal boats, deckchairs and get something to eat. Your only worry will be cooling the seats of the car down after a full day in the sun.
Going further, inside Monte Cofano's Reserve, you can reach Agliareddi, a round stone beach. The parking is just a few meters from the beach, a very easy access for parents with children and full of bags. Like all the beaches from this coast, it is always better to check the tide before moving there, you do not want to surprisingly arrive and not find a beach in the place that is supposed to exist one.
What about Zingaro?
The Zingaro Natural Reserve is one of the most beautiful places to visit when you are at San Vito lo Capo, but, unfortunately, not very easy to enjoy if you visit it with small kids. One good option for families is to see it by the sea. This way, kids can enjoy sea baths and snorkeling, sometimes even observe some dolphins and take a nap on the way back. If you want to visit it by foot, there are two out of seven beaches of the park that are more convenient for families, depending on the entrance you choose. The north entrance is the closest to San Vito lo Capo. In a 20-minute walk, you will get to the first beach, Cala Tonnarella dell'Uzzo. Through the south entrance, at Scopello, you will reach Cala Capreria, after the same amount of trekking time. Remember to take everything you need with you, Zingaro is not equipped and there is not a single place to buy food or beverages inside the park, so don't forget to take litres and litres of water. Consider also the lack of shade and the high temperatures during summer and take abundant sunscreen, hats and parasols as well. One last thing: be sure that Zingaro is open before going there, it is not odd that the zone gets hit by fires.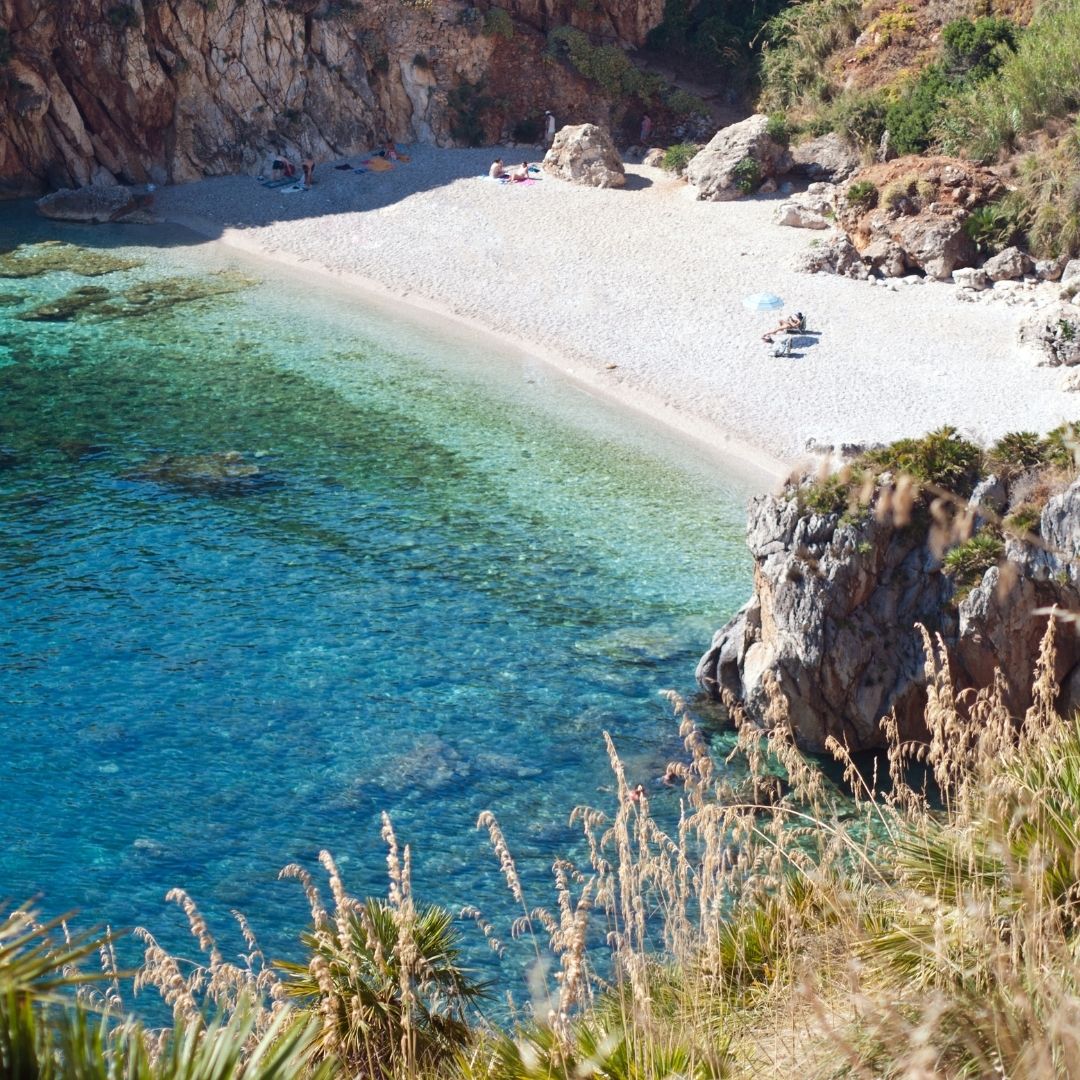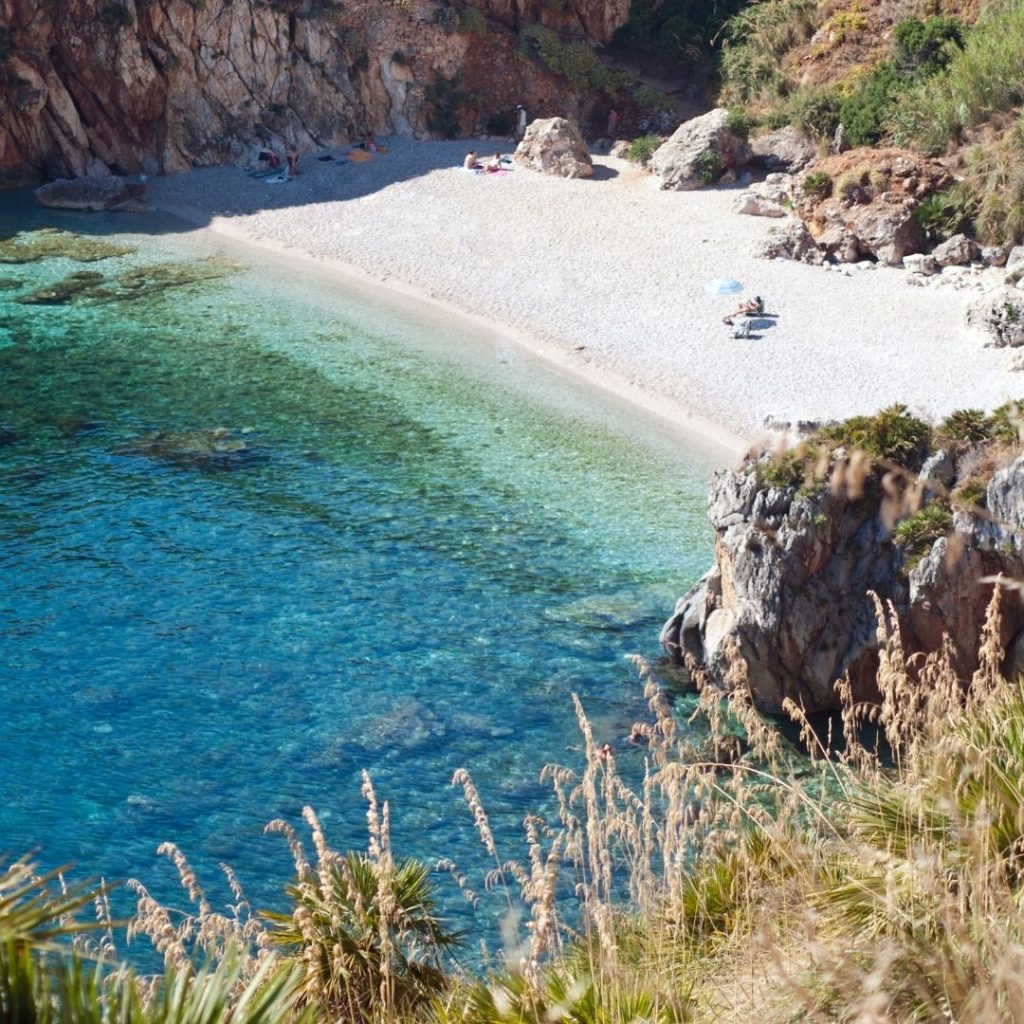 Trekking, mountain bike and climbing
Trekking is a fun outdoor activity to do with children, who are generally curious and great observers of nature, plants and small insects. There are many areas to explore at San Vito lo Capo, like Monte Monaco and Cala Mancina zone, where there is a trail to get to a cave called Grotta dei Cavalli, an adventure-like expedition that might excite the kids and give them extra motivation to keep the pace.
In case you have free time and want to do some serious trekking, visit Scurati Park, at Custonaci. From downtown you must get to Cerriolo Park, which offers a marvelous landscape from Bonagia's gulf, Erice and Mount Cofano. During the walk in direction to Mangiapane's cave, inside Scurati zone, kids may discover some other caves with interesting stalactites and stalagmites.
Another nearby destination for trekking families is Erice. The small town is located on the top of a mountain and has a medieval village to get lost inside its narrow streets and charming tiny houses. From up there, kids can discover a castle and parents may enjoy fabulous views from Trapani and Egadi islands. You can get to Erice by car or arrive in a cable car, which is a much more exciting way to visit it. In this case, you must park in front of the ticket office and do your walking tour once you arrive up there. The climb takes about 10-15 minutes. Take note: always take a coat with you, even during summer. Erice always gets chilly and windy in the afternoon.
If your family is more declined for mountain bikes, San Vito offers great road bike trails, with different levels and lengths. You may prefer uphills or a long straight way along with the sea, but in both ways you get great panoramas to admire. Some easy trail options from San Vito lo Capo to the west are Cala Rossa and Cala Mancina; to the east, you may get to Monte Monaco, Tonnara del Secco or Zarbo di Mare.
San Vito lo Capo is also known by its cliffs and walls for climbing on the sea, specially at Cala Mancina, which is also the calmest beach in town. If you have older kids (7+) climbing might be an interesting option to make them try something new, if they are not familiar with it. To get to the walls, and also to get to Cala Mancina, you must walk 20 minutes or drive on a bumpy road.
Other activities
There are only two free playground areas at San Vito lo Capo. The first one is at a square near downtown, in front of Carabineri's office. There is a small playground with a few activities. The second park is Pineta Bica, which has three wood playgrounds and a zipline for kids. This park is near the port, close to the cemetery, where you may also find some tables for picnic and a shadow-filled zone full of pins. During summer, San Vito lo Capo offers other leisure paid options, like playgrounds, inflatables and arcade games. Occasionally, the town is host of sports competitions, such as triathlon and bike races, and great events, like Couscous Fest and festivals.
On those occasions, parents can get more information in the stands located, generally, in the seafront or in the main square, in front of the church at Savoia's street.
Frequently kids can enroll in some free activities offered during these events.