A sicilian grocery shopping for your comfy holiday in San Vito Lo Capo like a local
What to bring into an apart hotel to enjoy Sicily like a local? What is useful to have for your holiday in San Vito Lo Capo? And what if there are children with many needs?
For us, working means taking advantage of feedback we receive from our guests. Especially by those who travel by plane and have to deal with limited suitcase space. As well those guests who travel by car prefer to not carry heavy and bulky belongings.
Isn't reducing thoughts the first holiday rule?
This is why we have decided to create a service often asked by couples and families: a welcome grocery shopping waiting for you in the apartment.
What is it?
It is a bag with some essential products (such as water, coffee, biscuits, and a lot more) which will allow guests to not waste time at the supermarket, when arriving. Much more, it is a first taste of our hospitality philosophy.
The grocery bag, available in two variants, is composed of a set of 100% Sicilian and high quality products. These are foodstuffs produced and packaged by companies in our region, selected just for you.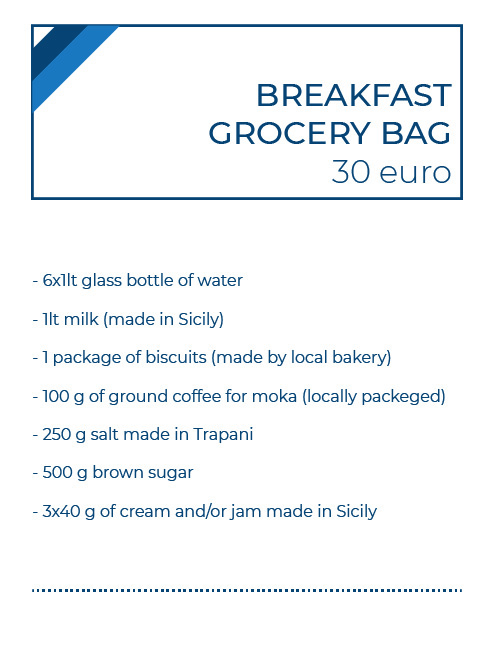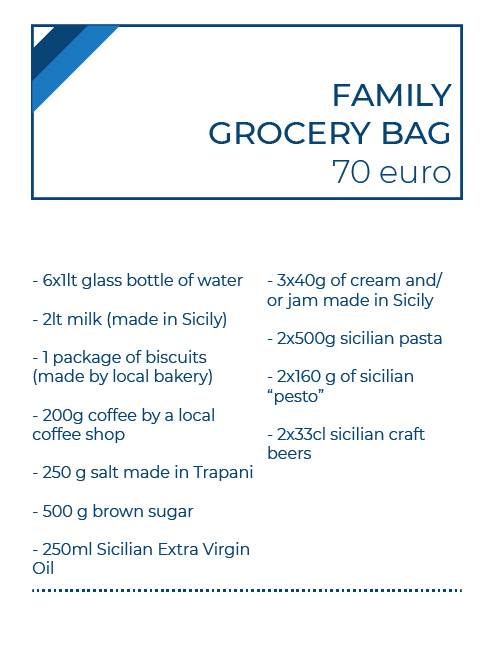 Through these products you can immediately savor our land, add a "tasty" piece to your holiday in San Vito Lo Capo, eat like a local and have a gastronomic experience while remaining in your comfy flat!
And then it's a real convenience.
At Poseidon there is already a lot. In our apartments there are many amenities such as hand soap, shower soap, dish soap, toilet paper, and all the stuff you need for self catering. But the shopping grocery is something more, it is an experience!
Obviously we have not forgotten our environmental commitment, which is always at the center of our choices. Once again, we are promoting a waste reduction by using a recycled cardboard bag and only water in glass.
For more information