Events 2018 in San Vito Lo Capo, Macari and Castelluzzo. The energy of a place that never stops.
San Vito Lo Capo is not only "sea", walking on the shoreline, mountain routes, bike rides or the pleasure of a typical dinner with local products.
San Vito Lo Capo never stops surprising you because of cultural events, food and wine events, music and sport.
There is only to choose when and book the perfect accommodation so you won't miss not even one minute of the 2018 events.
Here is the complete calendar of events 2018.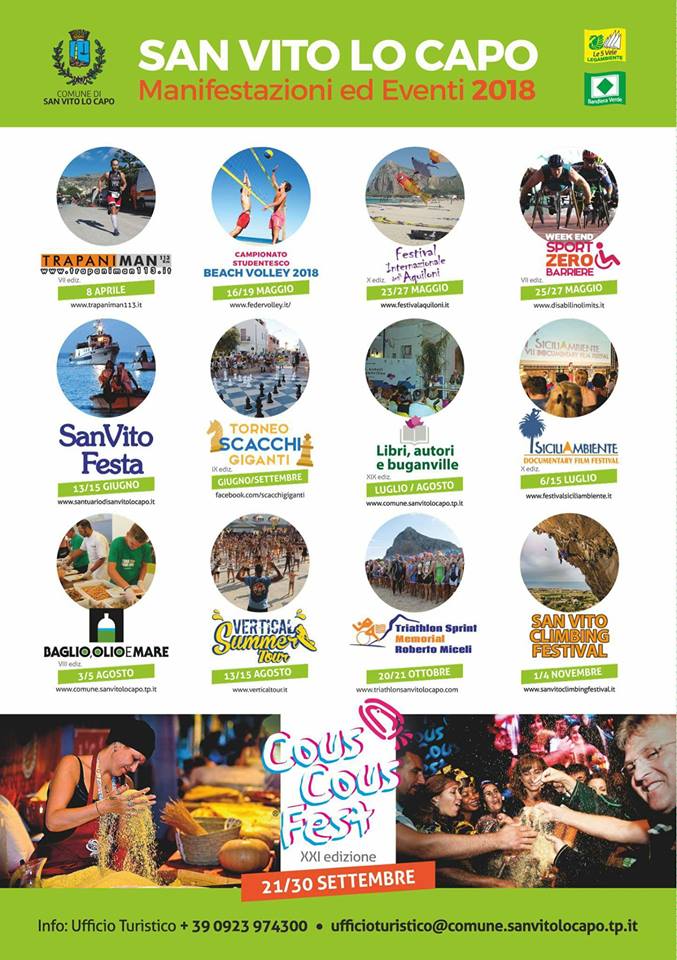 STUDENT CHAMPIONSHIP BEACH VOLLEY 2018
May 16th to 19th
Which beach more than San Vito Lo Capo can host such an event?
The event is organized by MIUR, the Ministry of Education, University and Research and brings together all the schools in Italy.
INTERNATIONAL AQUILONI (KITE) FESTIVAL
May 23 – 27
The Festival of Kites has now reached its tenth edition.
Laboratories, music, shows, craftsmanship but above all the competitions among aquilonists from all over the world.
WEEKEND SPORT ZERO BARRIERS
May 25th to 27th
In San Vito Lo Capo the first zero free barriers beach in Italy is born and it is here that every year the passion for sport without limits is celebrated.
Are you looking for a flat without barriers? Discover our accommodations.
SAN VITO FESTA
3 – 15 June
During the Feast of San Vito, the most important stages of tradition linked to the celebration of the patron saint are relived.
An unforgettable moment of celebration, between religion and folklore, for the community and for all the devotees.
GIANT CHESS TOURNAMENT
June September
Piazza Marinella is famous for its giant chess.
Every day, throughout the summer, chess enthusiasts find themselves in this corner where time seems suspended.
BOOKS, AUTHORS, BOUGANVILLEE
July August
Via Venza boasts the most flowery alley of San Vito Lo Capo and is the right place to host literary events with the most important Italian writers.
Books, authors and bougainvillea is a beautiful moment of culture, but also a comparison of current events.
FESTIVAL SICILIAMBIENTE
6 – 15 July
The event has reached its tenth edition. Environment, inter-culture, social inclusion are just some of the themes dealt with screenings of short films and films, insights, music, exhibitions, and shows.
We adore him and support him for years!
BAGLIO OLIO E MARE (BAGLIO OIL AND SEA)
3 – 5 August
In Baia Santa Margherita and Castelluzzo a very popular event dedicated to blue fish and traditional cuisine.
A tribute to extra virgin olive oil produced organically in these areas.
VERTICAL SUMMER FESTIVAL
13 – 15 August
Lots of beach music, games, water sports and lots of gadgets.
The itinerant event involves the most important Italian beaches and this year makes a stop in San Vito Lo Capo.
COUS COUS FEST
September 21st – 30th
The Cous Cous Fest is among the 2018 events the most famous in the world!
Ten days dedicated not only to cous cous, but also to peace and integration seasoned by music and lots of fun.
An exhibition village full of excellent food and wine companies is located throughout the town; the Palabia, a large structure with kitchens and more than 100 seats, hosts show cooking, competitions and tastings.
TRIATHLON SPRINT – MEMORIAL ROBERTO MICELI
October 20th – 21st
Still sport, but this time for Triathlon enthusiasts.
The sea, the beach, the city routes and Monte Monaco are the real stars!
SAN VITO CLIMBING FESTIVAL
1 – 4 November
The crags of San Vito Lo Capo, Macari and Castelluzzo are loved by climbers from all over the world.
The San Vito Climbing Festival brings them together and involves sportsmen, tourists and citizens with sports music, shows.
Have you chosen which event is not to be missed? Ask for more information and take part in each appointment staying in a structure a stone's throw from the center of San Vito Lo Capo.